Product Description
SIPs Continuous Insulation Airtight Building Envelope
Structural insulated panels (SIPs) are engineered panels used to construct walls, ceilings, and floors. All wall and roof panels are fully pre-cut and preassembled in factory so SIPs prefab house is fast assembly house, just like playing a big jigsaw game. Structural insulated panels typically consists of a rigid foam insulation layer sandwiched between two structural skin surfaces, such as oriented strand board (OSB). The OSB we bought are from Canada and is E0 grate. So SIPs prefabricated house is both high insulated home and green house.
SIPs can handle dead loads of about 10 pounds per square foot (PSF) and live loads up to 70 PSF. They can be used in roofs and floors as well as walls and can span as much as 18 feet with no additional support. This makes them considerably stronger than comparable surfaces constructed with traditional wood framing. SIPs prefab house can stand still in earthquake and that's why our Japanese customers and New Zealand customers like our goods.
The most common types of structural insulated panels (SIPs) are:
Expanded polystyrene insulated panels
Polyurethane or polyisocyanurate insulated panels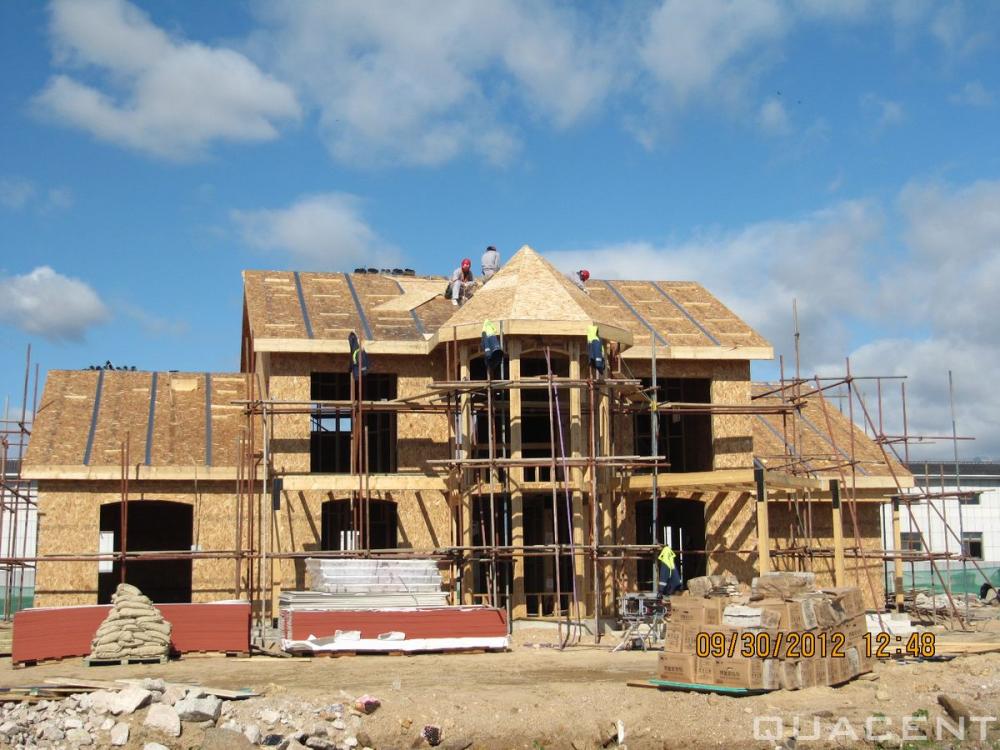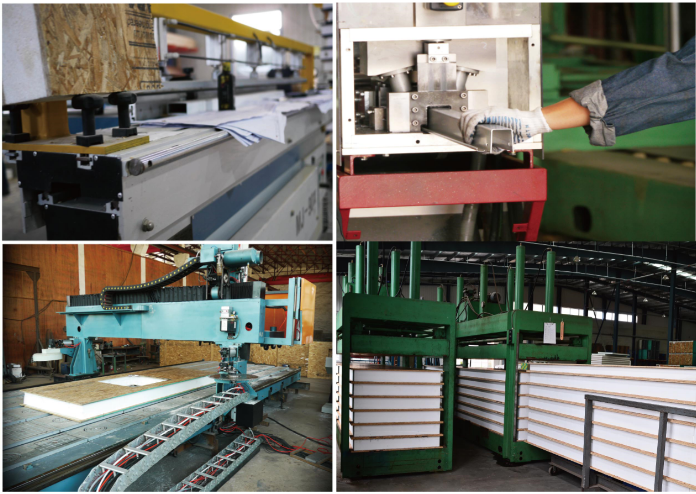 Structural Insulated Panels are high-performance building materials used in wall, roof and floor for residential and light commercial constructions. The panels are made by sandwiching a core of rigid foam insulation (EPS, PU, XPS) between two skins of structural/engineered boards such as OSB, plywood, cement board or magnesium board etc. The dimension of Quacent SIPs varies from 1220mm x 2440mm x7320mm, and its thickness is from 114mm up to 310mm, which can meet the structural and insulation demands of all regions.
Quacent SIPs are all manufactured strictly under ISO9001-2015 quality control system. All the lumber, OSB, adhesive come from Canada or USA with high grade certification.
OSB Skin Structural Insulated Panels (oSIPs) Prefabricated House. More suitable to: temperate & cold zone. We use Canadian imported OSB board and dimension lumber (SPF). We supply complete house kit through designing, engineering, laminating, cutting and pre-assembling. Our SIPs prefab system can significantly shorten the construction period and improve project quality. According to customer`s specific demand, our SIPs prefab house kit can be delivered in either modular or panelized format. Luxury house is also available by provide high standard decoration accessories.
In order to reduce customer`s cost, based on our strong supply chain in China, we are able to provide full accessories for houses to save the purchasing efforts and time for our clients. In general, we provide affordable SIPs prefab homes that suit for people all over the world.
Customers can either choose our existing designs or use their own customized designs.